Yes, I may be crazy. I am adding another project to my ever growing pile. I bought a charm pack of Kate Spain's Flurry a while back because I simply fell in love with it. I love me some lime green for the holidays! And that blue? I shocked myself by liking it so much. I usually don't like that "Carolina blue". But with all the greens and reds, it seems perfect for winter. I bought the charm pack with the intention of getting a tree skirt made for our Christmas tree this year. I have a lot of handmade gifts planned and in the back of my mind I honestly didn't think I'd get to the tree skirt in time...
Gen X Quilters
to the rescue!I came across this blog yesterday and something just clicked. The first thing I noticed was her block library. So many blocks all with tutorials. Perfect for a beginning quilter like myself. Then I noticed...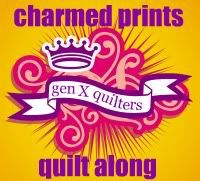 I have never done a quilt along but I already had a charm pack to use and I could easily turn the baby size quilt into a tree skirt. How can I not do this?!?!
So, here is a stack of some of my charm squares and the fabric I pulled for sashing, borders, and some feature squares. I plan on using something special for the backing...I'll keep you posted!